The Wrath and The Dawn by Renée Adhieh
Synopsis: 
One Life to One Dawn.
In a land ruled by a murderous boy-king, each dawn brings heartache to a new family. Khalid, the eighteen-year-old Caliph of Khorasan, is a monster. Each night he takes a new bride only to have a silk cord wrapped around her throat come morning. When sixteen-year-old Shahrzad's dearest friend falls victim to Khalid, Shahrzad vows vengeance and volunteers to be his next bride. Shahrzad is determined not only to stay alive, but to end the caliph's reign of terror once and for all.
Night after night, Shahrzad beguiles Khalid, weaving stories that enchant, ensuring her survival, though she knows each dawn could be her last. But something she never expected begins to happen: Khalid is nothing like what she'd imagined him to be. This monster is a boy with a tormented heart. Incredibly, Shahrzad finds herself falling in love. How is this possible? It's an unforgivable betrayal. Still, Shahrzad has come to understand all is not as it seems in this palace of marble and stone. She resolves to uncover whatever secrets lurk and, despite her love, be ready to take Khalid's life as retribution for the many lives he's stolen. Can their love survive this world of stories and secrets?
My thoughts:
5/5 stars.
Phenomenal. This was beautifully written! This book is a Thousand and One Night  retelling, and damn, did it live up to that title, my goodness.
This is a book you just have to read, no excuses (enough excuses, I'll accept them,) but this book was really amazing!
There was however  one tiny little thing… there wasn't really a lot of time between Shazi hating Khalid and Shazi loving Khalid, I would've liked this book better if their love had been more exploited, took a little longer than the span of about 100 pages.
There were also a lot of side stories, that of course all led back to the main story, but the first five or so chapters were pretty confusing, maybe this was just me, but I was so confused, I had to reread the first five chapters twice.
The main character Shahrzad was interesting, she reminded quite a lot of Daenerys Targaryen from A Game of Thrones by George R.R. Martin. She was hell bound on taking revenge on Khalid, for the death of her best friend. This is one of the first stories in which the main character is prepared and ready to strike. I was actually pitying Khalid when Sharzhad got really mad. She would have punched him so hard, his head would have come out of his rear.
It was interesting to see her change her opinions about Khalid throughout the story. Her interaction with other characters made for  interesting and very much so, intriguing dialogues and small plot twists. Her background story was sort of missing, she would have been a much more interesting person, had we known more of her background story, there was little of it in the book much to my disappointment.
Khalid, or the Caliph of Khorasan, was well.. interesting probably isn't the right word but he had a certain air of mystery around him that kept the story interesting all the way to the end and his persona was well, exotic.
When he actually tried his best, he was very, poetic. He certainly has a way with words, to say he is smooth is an understatement. He even tried to 'change' for the better for Shazi, which was pretty cute, but very painful to read about, since he obviously had no idea whatsoever.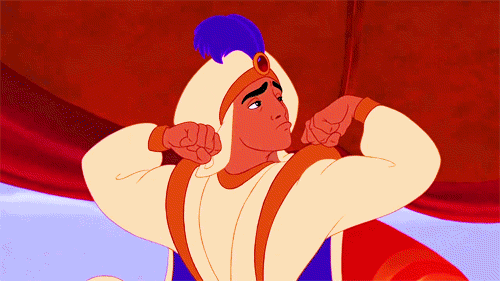 The side characters (of whom I've forgotten the names,) were interesting if not a tad annoying. There wasn't really much of a background to them, so it made reading about them a little boring and slowed down the story.
I REALLY LOVED THE ENDING. THE ENDING WAS AMAZING. Seriously, you should read it for just the ending, I'm kidding, but the ending was great. It wasn't a real cliffhanger but it certainly felt like it. I feel like this gif would be a good one to describe Sharhzad's father at the end of this story:
AND HERE ARE SOME QUOTES: