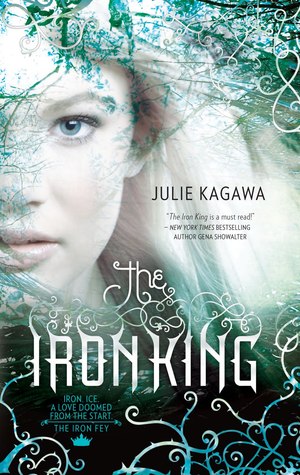 The Iron King by Julie Kagawa
Synopsis:
Meghan Chase has a secret destiny; one she could never have imagined.
Something has always felt slightly off in Meghan's life, ever since her father disappeared before her eyes when she was six. She has never quite fit in at school or at home.
When a dark stranger begins watching her from afar, and her prankster best friend becomes strangely protective of her, Meghan senses that everything she's known is about to change.
But she could never have guessed the truth – that she is the daughter of a mythical faery king and is a pawn in a deadly war. Now Meghan will learn just how far she'll go to save someone she cares about, to stop a mysterious evil, no faery creature dare face; and to find love with a young prince who might rather see her dead than let her touch his icy heart.
My thoughts:
4/5 stars,
This book was everything I could've wished for, it was funny, not very romantic, very adventurous and incredibly enticing!
I really like this new world, and apart from the typical faeries or werewolf/vampire story, this story had a very refreshing take on faeries and fey. To say I loved it would be an understatement. It was the perfect blend of humour and adventure, which is something that doesn't often go well together. Kagawa however found the perfect mix and owned it. (I really regret typing that.) Of course there's usually humour in adventurous books, but that's usually a sarcastic side kick, or Jace from the Mortal Instruments.
Did I mention it's A Midsummer Night's Dream retelling? That is, together with The Tempest my favourite story written by Shakespeare. Was it done perfectly? No, but Puck was there, who's my favourite of A Midsummer Night's Dream, he's funny, obnoxious and in The Iron King he was actually a very caring character, which was… interesting..?
Up for critism is Ash. Am I the only one when I say I didn't like him? I don't know what it precisely is about him that I don't like, I just don't like him. Oh wait, I know, how about the fact that he is precisely like every other typical main love interest?
Better get that ice ready hon, because you're in for a big burn.
He was a walking cliche, nothing about him was original, he starts out as cold and grumpy, the taboo love interest, who's very powerful and has a past with the main character's best friend, lost someone he loved dearly and wasn't expecting to fall in love with the main character. I'm sorry Ash, but you are so overdone. Let's not forget the fact that you swore to kill said main character at first but then suddenly fell head over heels in love with her, just  because she accidentally bumped into you twice, or because she's this special and exotic magical creature, one you've never encountered before and now you regret having to betray her and lie to her, let's not forget the fact that he's in fact her capturer and just hasn't killed her because mommy dearest finds your latest significant other interesting and wants to use her for the greater good of said spouse's enemy kingdom/court? Puh-lease, yawn.
Stop it Ash. I'm just going to call you Ass from now on, because that's what you are. Stop existing. You barely made any difference to the story, okay apart from the fact that you saved Meghan life a lot of the time, scratch that, all of the time.
Okay enough about Ash, he was a walking cliche but I'm sure he had some likeable qualities I just haven't yet been introduced to.. somewhere in his  ice-y body.
Moving on to Meghan, her reaction to hearing she was not from this world was pretty entertaining, I mean fleeing into your bedroom and smothering your sobs of pure disbelief into a pillow is new. Hitting your Shakespearian best friend was also a great response to all the 'idiocy' thrown her way. She became adapted at an average speed to the news and the new world around her, which was refreshing because judging by Twilight, apparently it's okay for your creepy frenemy to stalk you, find out he's a vampire hotty and marry him. That's the way to go guys! No, but Meghan was a very interesting character and I can't wait to read the rest of the series.
 (look at those killer highlighting skills)