The Gentleman's Guide to Vice and Virtue by Mackenzi Lee.
Synopsis: 
Henry "Monty" Montague was born and bred to be a gentleman, but he was never one to be tamed. The finest boarding schools in England and the constant disapproval of his father haven't been able to curb any of his roguish passions—not for gambling halls, late nights spent with a bottle of spirits, or waking up in the arms of women or men.
But as Monty embarks on his Grand Tour of Europe, his quest for a life filled with pleasure and vice is in danger of coming to an end. Not only does his father expect him to take over the family's estate upon his return, but Monty is also nursing an impossible crush on his best friend and traveling companion, Percy.
Still it isn't in Monty's nature to give up. Even with his younger sister, Felicity, in tow, he vows to make this yearlong escapade one last hedonistic hurrah and flirt with Percy from Paris to Rome. But when one of Monty's reckless decisions turns their trip abroad into a harrowing manhunt that spans across Europe, it calls into question everything he knows, including his relationship with the boy he adores.
My thoughts: 
Infinity and beyond/ 5 stars
This book you peeps, this book came out last year, so I'm a bit late to join in on the hype, it was one of my most anticipated books of 2017, and I never bought it, but I did this year and well fuck me, oops sorry, it's late, but oh my God- Monty's just fine darling, this book is bloody brilliant.
First off, let's just start with the fact that Mackenzi Lee quoted Alexander Pope- YES. Goodness me, love me some Pope, and the map in this book was so beautiful yet not very intricately designed or anything but just right as Goldilocks would have said.
It's been about ten days and I still cannot correctly nor understandably put my thoughts on this epic book into sentences, well, ones that make sense that is.
Let me start of with the fact that the first chapter is everything you wanted and never knew you needed to read in a Young Adult diverse book, until you read it. It was magnificent, glorious as Monty got up and relieved himself onto the hedges below his window, showing his gentlemanhood (badum tss.) to everyone out, without really caring. The fact that Percy was just right there from the beginning and the fact that you knew of the  feelings Monty harboured for Percy from the start, made it incredibly hard not to sort of fall in love with Percy as well.
This story was funny, thrilling, gripping, exciting, and well, sexy. Okay not sexy, but Monty is like an entirely new human race on his own. He was so eccentric and self-centered and just beautiful, that us mortals are way below his standards, he's far too good for the likes of us mere puny humans.
I liked the fact that Monty had two completely opposite personalities, one was the eccentric over the top, devil be damned, bisexual lord and the other was the shy, insecure, in love with his best friend and looking for his father's affection and approval seventeen year old boy who had one last chance to prove to not only his father, but also to himself that he was so much more than just Monty the party animal.
Percy's a black, born out of wedlock disease ridden, violin player, who's a bit introverted, always reasonable and seriously so freaking precious. If you are talking about precious cinnamon buns, here's one. Seriously, #savePercy2k18 he is so adorable and gosh I cannot stop swooning over these characters, I'll never stop (queue in evil laugh). I loved how he was able to stand his own ground, make the best of the worst situations, the way he held himself is very admirable and he made Monty so humane, only Percy had the ability to knock some sense into that thick head of Monty's.
Felicity has quickly become one of my favourite main characters of all time, the way she handled things, and the sneaky things she did, don't even get me started on her snarky comments she kept throwing Monty's way and the fact that she completely did a one-eighty over the course of this book was bloody brilliant, Mackenzi Lee really knows how to handle these sort of character transformations well!
This book is one of my favourites of all time, no doubt about that. I love how this book was promoted, EpicReads did a really great job, attracting readers with colouring pages, quizzes, giveaways and name generators. There's a lot of fan art of The Gentleman's Guide to Vice and Virtue out here on the internet, and I could stare at all of them for the rest of my remaining days. They're so good! And cute and gosh just all the feels, I'm not crying, I have allergies okay. (I don't have allergies.)
OTP of the year; Monty and Percy, definitely!
I mean look at them! The fact that Monty called Percy darling was just too much for my poor miserable heart, it was so terribly sweet and cute and need I go on? I think you get my point. If you still need some persuasion; pirates, feminism, gay couples, bad ass road trips, alchemy, Victorian London, Henry Montague Jr, 513 pages, angst and fluff.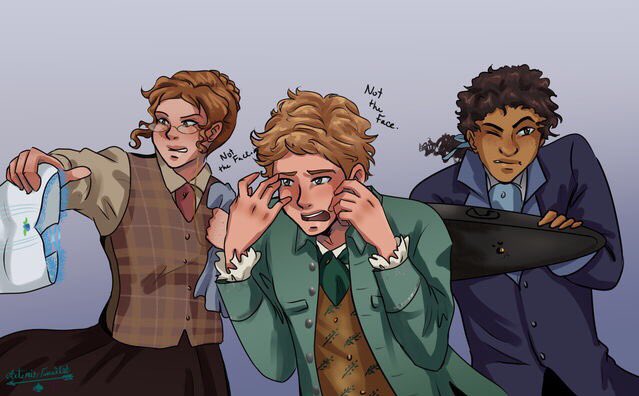 Plus The Gentleman's Guide to Vice and Virtue's going to have a sequel, it's called The Lady's Guide to Petticoats and Piracy and I honestly cannot wait! I am so EXCITED. Can it be the seconth of October yet?
The Lady's Guide to Petticoats and Piracy is narrated by Monty's younger sister Felicity, and it features travelling, pirates (love me some pirates,) and a science girl gang. I MEAN HELLO DOES THAT SOUND GOOD OR WHAT? Plus it's going to have 512 page so count me the fuck in!
Here's a name generator, what's your guide? Mine's The Booknerd's Guide to Fire and Winning!
PLEASE PICK UP THIS BOOK!